We are pleased to inform you that we just launched a brand new Dashboard, along with some cool features to improve your overall experience on Jochebed.


Jochebed Account Number (JBAN)
It is a unique static 10digit number (found at the top left corner) linked to your profile. And will be your public identity across Jochebed. For example, it can be used to accept payments via Jochebed Transfer from other Jochebed merchants.
Interestingly, you can switch between JBAN for business or JBAN for individuals (default). This setting tells Jochebed whether to display your business or personal name when a merchant verifies your JBAN.


Jochebed to Jochebed Transfers
Sending money to other Jochebed merchants using their JBAN is now possible. Part of the good news is that you can send larger amounts of money, unlike the regular bank transfer service. All transfers that you make will be authorized with your 4digits wallet PIN before it is processed and you also get a transaction receipt.
Link and Switch Between Accounts
This feature is for merchants with multiple Jochebed accounts. You can now link together all the Accounts that you manage and switch between them with ease. For example, when you are logged-in to A, and you link B, you can change to B and switch back to A.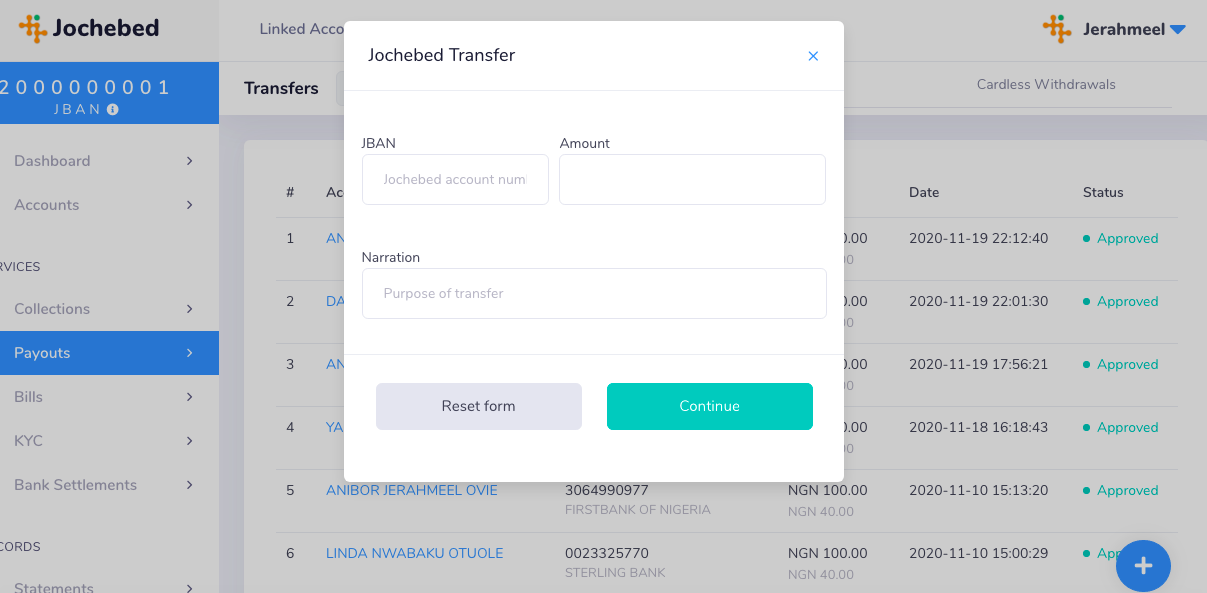 For security reasons, switching between accounts will require the password to the Account that you are switching to. Please note that while you can unlink an account at any time, a change of password will automatically unlink an account from everywhere it is linked with.
Settlement Accounts
You can now add bank accounts directly linked to your BVN (for individuals) or have a 100% account name match with your business name. We also let you favourite a settlement account to make settlement requests faster.
This feature is also available on the API. Kindly refer to the API documentation under the "BANK SETTLEMENT" section. Requesting a settlement requires that you pass the settlement bank account ID, amount you wish to get settled in, and reference to track your Settlement.
Live chat
Yes, a live chat with Linda, our Customer Success Officer will help you resolve disputes, give feedback, and get the most out of Jochebed faster.
Head over to your new Dashboard and experience it yourself!